Administrators are able to email job seekers on the web application (app.bfound.net) using the following options. Be aware that Line Managers cannot email applicants from the application without being given special permissions first:
1. Automated emails that are triggered by Bin Movements set up by your recruitment team (e.g an automated email that is sent when you move a job seeker into an Unsuccessful bin).
2. Bulk emailing either everyone in a job, or bin, by selecting the tick boxes to the left of their names in the main list, and then selecting the small Email icon to the top of the list.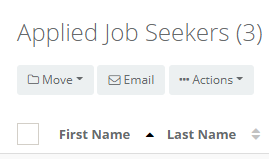 3. Emailing a job seeker individually by clicking on the job seeker's name, and then clicking on the Email icon to the right-hand side of the job seeker's profile, above the mini-map of their location.
Clicking on the Email icon opens the email job seeker interface, where you can either start typing the text of your email, or select from a template.
You may change the "From" address if you require, and attach any documents if you wish. In the lower left, you can also change the time when the email is sent. By default it is Immediately, but you may like to delay it by a day or two.
Once you have sent the email, it will be recorded against that job seeker's profile in the Emails tab.
If they respond, and you wish to record their email into their profile, simply add a Comment against their profile (paste in the text of the email in the comment box).