The StaffCV tools allow you to move applicants for a job through the recruitment process that has been set by your recruiting team.
This may be simply reviewing a shortlist and moving people to an 'Interview' stage, or it may be controlling the whole process through to hire.
When you view a job, the Applied Job Seekers bin of your process will load. A copy of all applicants remains in this bin, so you can see where they are at a glance, and find those who haven't been dealt with yet.
Click on Jobs in the main menu
Click on the job title you are managing
The Applied Job Seekers bin will load. You can move people from this bin to a bin in your recruitment process - or - you can click on another bin (e.g. Longlist), and review job seekers from there and move.
To move a job seeker, or multiple job seekers, first click in the checkbox next to their name(s) to select them:
Then, click on the little 'Move' icon and a dropdown list of bins will appear. Click on the bin you want to move your job seeker(s) to.
A Comments box will appear, allowing you to enter a comment for the job seeker(s). You can either enter a comment and Save, or leave blank and Save, to move the job seeker(s).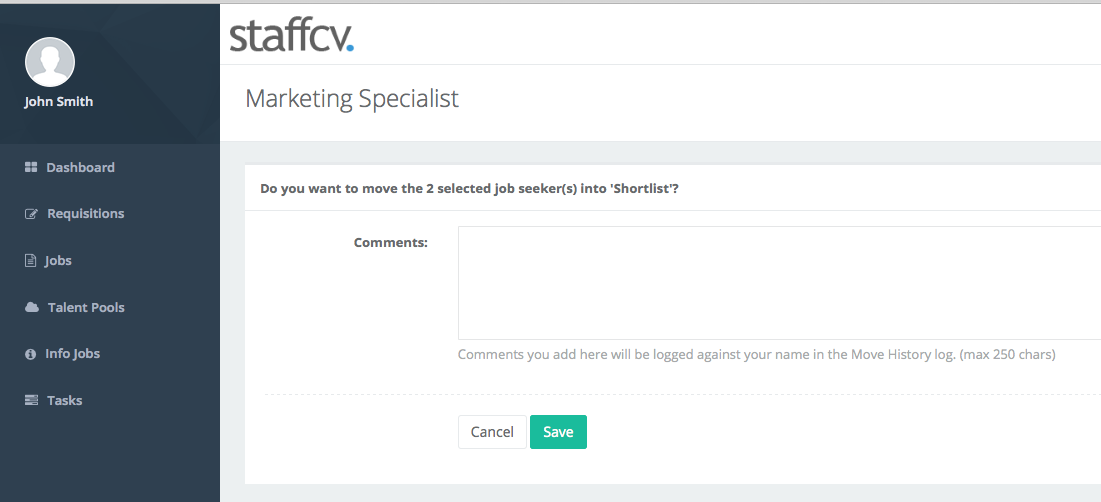 If a process bin has been assigned an automated action (e.g. an email to be triggered to the job seeker), a message will appear at the top of the page notifying you that the task will be performed if the job seeker is moved: