More information forms can be sent to Line Managers in order to gather additional information about a Job Seeker. The Manager can fill the form out online and instantly submit the completed form back to StaffCV. You can send a form to multiple managers if you desire.
To send a More Information Form to a Line Manager:
Log into the online application (https://app.bfound.net/)
Locate the job that your job seeker is in and click to access
You can either:
Tick the box beside the job seeker's name and click on the actions box to choose "More information Line Manager", OR

Click into the job seeker's profile and click on the three dots actions box above the map to choose "More information Line Manager"

An email template will appear. Edit this as you desire
Choose one or multiple Line Managers from the list in the "To" field in the top left
Choose the template type in the top right to attach the More Information Form to your Line Manager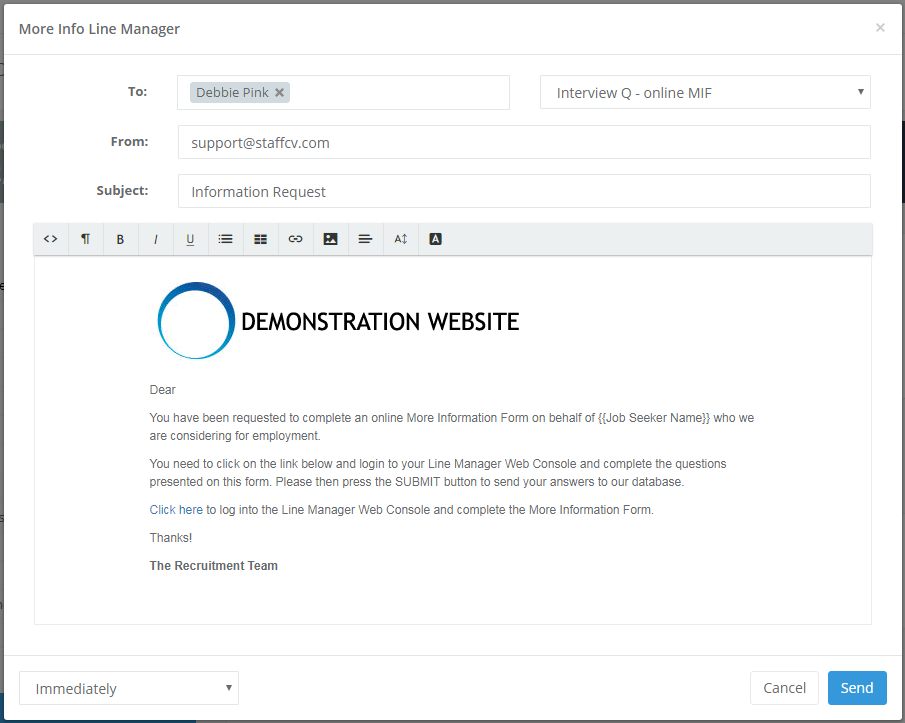 When you are ready, click Send
The Line Manager will receive this email, prompting them to log into the online application and complete the Task.
Note: Job Seekers do not see that a form has been sent out about them.