This article guides you through adding a new job to your careers website.
Click on Jobs in your main menu
Click on the Add New Job button
You will see the Add Job wizard, which has 5 steps:
Job Details (key basic information for the job)
Job Description (the advertisement details you will publish on your careers website)
Application Form (the job-specific set of questions you will publish for job seekers to complete when they apply for this job)
Process (the recruitment process steps for this job. Note that this is set at a company level. You can change individual jobs' process steps via the Recruiter Admin App)
Publish (the audience you want to publish to: Internal/External, and opening and closing dates for the job)
Complete the fields in Step 1 and click the Next button at the bottom of the screen
Note that your Current Job Status will default to 'Open' when you start. This means that when you get to Step 5, it will be published live. If you would prefer to start now and finish later, then choose 'Draft' for your Current Job Status.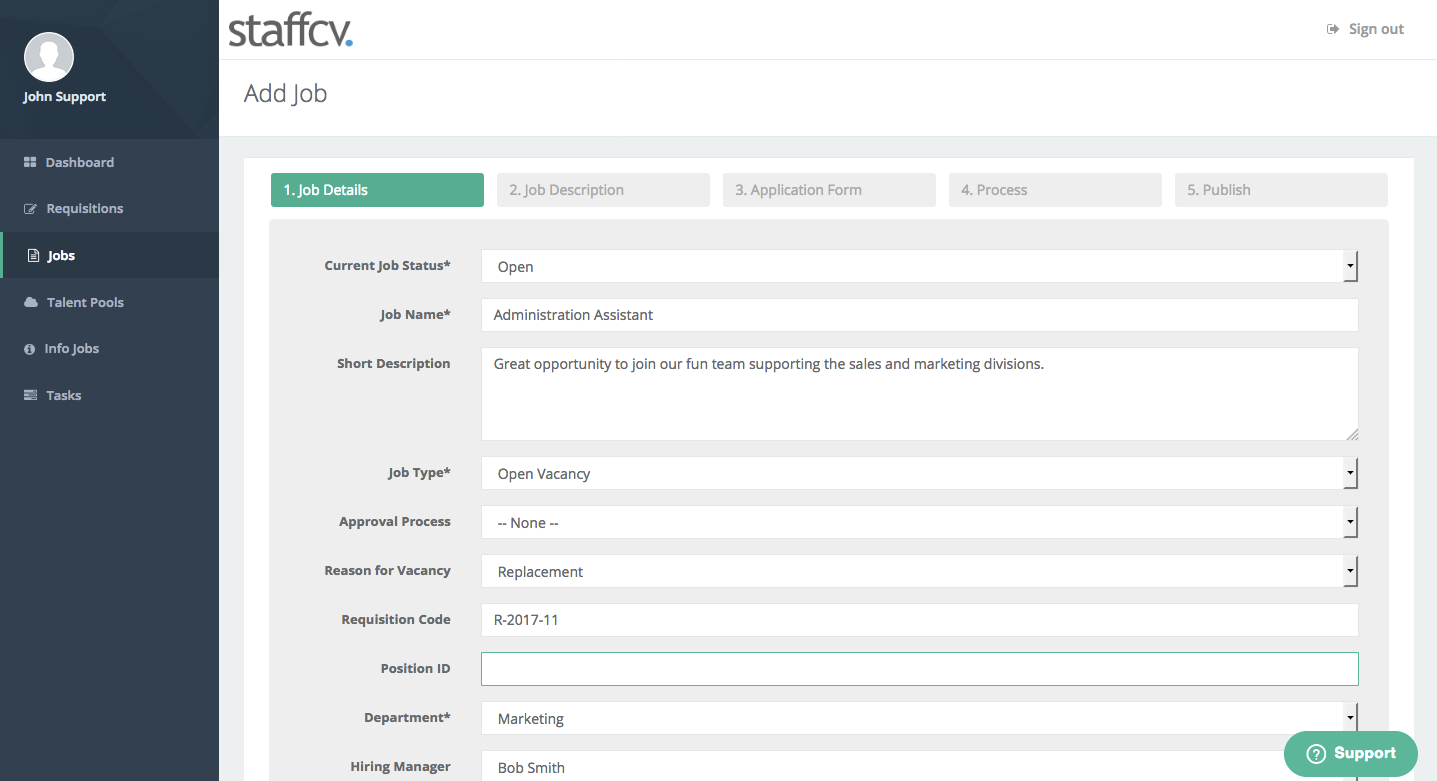 At Step 2, you will build your Job Description (or advert). You can do this either by starting with a blank canvas (click the Add Text button), or by selecting one of your pre-built advert templates (click the Add Template button). View more information on how to use the Job Advert builder.


At Step 3, select the Application Form you wish to use for this job. Click Add Template and pick from the list then click 'Insert'

Use the Up and Down arrows to reposition the questions on your form
Use the Delete icon to remove questions from your form
Click Next to Continue
At Step 4 you are shown the Recruitment Process that is set for this job. Note that this is set at a company level. You can change this job's process steps via the Recruiter Admin App
Click the Next button to continue
At Step 5, you can set the jobs visibility to show externally and internally

If you select 'Only Internal Applicants' then the 'Open Externally From' field is enabled. This allows you to first publish your job internally, and then let it open automatically after a certain date
You can also elect to Open the job automatically (external) from a certain date. NOTE - you must set your job to Draft in Step 1 if you are using this feature.
You can set the job to auto-close on a certain date (both internal and external)

Click 'Finish' to complete the wizard
Your job will now be published on the careers website. Note that if you set it to 'Draft' in Step 1, you will first need to go back and set it to 'Open' in order for it to appear on the site.
The job will now appear in your Jobs list